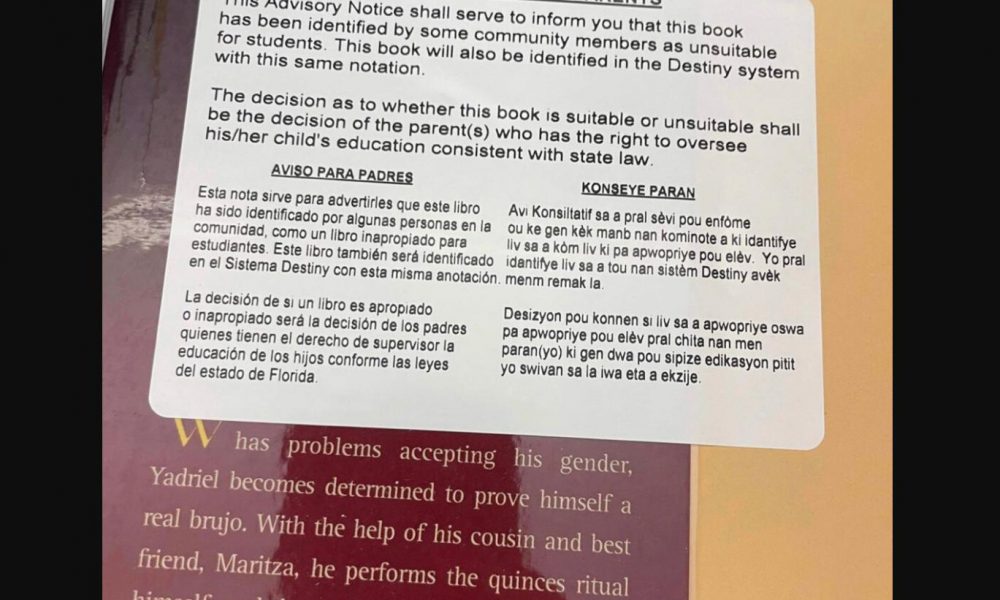 Warning label stuck on LGBTQ+-related books by Florida school district
DANIA BEACH, Florida. – The Florida Board of Medicine voted Friday to accept a request from Florida's State Surgeon General for the Board to enact a rule prohibiting medical professionals from providing gender-affirming medical care to trans youth.
Hundreds of advocates rallied as the Council voted to start the rule-making process and consider a new 'standard of care' that could threaten gender-affirming care for transgender minors and could restrict such care for adults .
After a public hearing lasting several hours, the Board voted 13 to 1 in favor of accepting the DeSantis administration's petition to begin the rulemaking process.
The Fort Lauderdale Airport Marriott's full board meeting was held in a conference room that saw a packed audience of members both in favor of trans affirmation of health care for minors and those who opposed them.
"It's as fundamental as social transition," said John Harris Maurer of Equality Florida. "Things like names, haircuts, clothes people wear or things like puberty blockers that delay the onset of puberty so people have more time to think about those kinds of decisions."
Also speaking to reporters, the mother of social media influencer Trans Jazz Jennings said her daughter would not be alive today without gender affirmation care.
"She knew with her heart and soul that she was a girl. Transgender children are at risk – 40-50% will attempt suicide. When you tell them, 'You can't wear this, you can't wear that, there (are) no doctors who will treat you", they become suicidal.
Anthony Verdugo, founder and executive director of the Christian Family Coalition (CFC) of Florida disagreed.
"As adults, they can do whatever they want. But miners simply don't have the mental capacity to make these life-changing decisions. Parents cannot allow a child to smoke or drink or drive a car at the age of three.
Brandon J. Wolf of Equality Florida noted in a tweet:
I always think about how @PatrickHunterMD pediatrician and member of the Florida Board of Medicine, today called transgender people a "social contagion."

Which came after their 'expert witness' claimed COVID isolation was making young people transgender. 🙃

— Brandon Wolf (@bjoewolf) August 5, 2022
Lambda Legal, the South's legal counsel, the Florida Health Justice Project and the National Health Law Program released a statement ahead of the meeting that said the State Surgeon General's proposal is unconstitutional and illegal.
LGBTQ legal advocacy group Lambda Legal noted that Florida State Surgeon General Joseph A. Ladapo's "biased and politically motivated petition, however, goes against well-established medical guidelines for the treatment of dysphoria." gender, such as those published by the World Professional Association. for Transgender Health (WPATH) and the Endocrine Society, and the overwhelming medical consensus in the United States and around the world, and would in fact deprive transgender people, including transgender youth, of essential, medically necessary and often life-saving care.
After hours of public testimony, including powerful personal stories from transgender people and their families and calls to support gender-affirming care, the Council abruptly cut off hour-long public commentary without explanation.
After sneaking the mother of a trans child through security, they voted hastily to accept the DeSantis administration's petition and officially begin the rulemaking process, with what trans advocates say bending to the will of Governor and Surgeon General Joseph Ladapo.
"Transgender Floridians and our allies came forward today with a clear message: Hands off our health care," said Nikole Parker, Equality Florida Director of Transgender Equality. "The Board of Medicine has become the latest state agency held hostage by Governor Ron DeSantis' uncontrollable political agenda. They are armed against transgender Floridians in this administration's war on LGBTQ people and in service of DeSantis' presidential ambitions. Gender-affirming care is life-saving care. The governor's cynical assault on such care is cruel, unconscionable, and threatens the lives of transgender people across the state.
The Board of Medicine is just the latest in a series of state agencies that have been weaponized by Governor Ron DeSantis against LGBTQ Floridians. The Agency for Health Care Administration is currently undergoing a similar rulemaking process that would remove Medicaid funding for gender-affirming care.
And in recent weeks, Department of Education Commissioner Manny Diaz issued a memo telling Florida school districts to ignore federal guidelines extending Title IX protections to LGBTQ students and the Department of Business Regulation and professional threatens the liquor license of a Miami small business in an attempt. to target drag racing shows in the state.