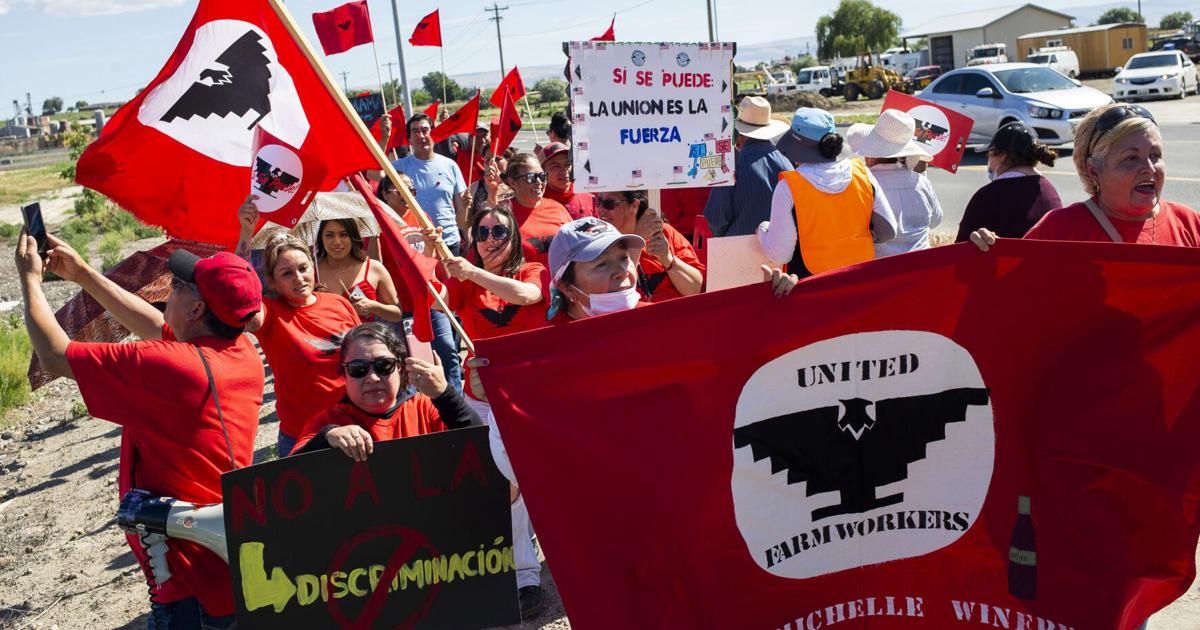 'Si se puede:' Sunnyside workers protest wages and conditions at mushroom factory | Lower Valley
SUNNYSIDE – Calls from "Whether se puede" and "la union is presente" rang out as workers at Ostrom Mushroom Farm in Sunnyside delivered a petition to the company on Wednesday demanding fair pay and safe working conditions.
"We are here because we want to ask the company for a good salary for the workers," said Daniela Barajas, a member of the workers' committee who has worked at Ostrom for more than two years.
About 100 workers and community members, including UFW representatives, gathered in a park in Sunnyside and then marched to the Midvale Road factory to submit the petition. Dressed in red and carrying signs and flags, they filled the sidewalk in the scorching sun and gave speeches about worker power.
The workers approached the entrance with their petition in hand and later said the staff inside refused to take the petition at the time. Instead, they said workers would meet with company officials on July 7. The crowd stayed outside for a few minutes, marching and chanting. Many wore United Farm Workers T-shirts and waved UFW red flags. UFW staff said they are there only to support workers and do not represent workers at Ostrom Farms.
Ostrom officials did not respond to a request for comment by the press deadline.
Workers earlier elected a leadership committee and organized to advocate for "fair pay, safe working conditions and respect", according to the petition. The 14-point petition calls for an end to threats, undue pressure and mandatory extended shifts. The petition says workers want realistic production quotas and equal opportunity.
"We are here to demand respect for workers and a comfortable workplace free from threats and intimidation," Barajas said in Spanish. "I worked for over two years and during that time there were a lot of threats and abuse. This is what we are fighting. »
Many workers said they were advocating for a workplace free from undue pressure to meet "unrealistic" quotas and are asking to negotiate production quotas and pay rates. The workers allege that quotas for mushroom pickers were recently raised from 65 pounds to over 70 and they have been threatened with dismissal.
"They put pressure on you at the time of a demanding job, but they don't ask in a good way," said Maria Toscano, another member of the workers' committee, in Spanish.
Supervisors demanded increased quotas while allegedly mocking workers, several workers' committee members said. Toscano says the stress has given him headaches as the company demands more work while paying low wages.
Ramón Gonzalez, who has been doing light work since sustaining a leg injury over the winter, said workers had been laid off recently and the company had issued warnings to workers. He said that these activities have increased over the last 3 to 5 months. The workers' petition called on the company to stop dismissals or disciplinary action without cause. Gonzalez also said mandatory extended shifts could start as early as 5 a.m. and end at 10 p.m. and without notice.
Those hours are especially difficult for parents and families with children, according to Victoria Rudy, a UFW representative who attended the Ostrom workers. Extended unadvertised shifts can make childcare difficult, she said.
Ostrom's Sunnyside facility was built in 2019 when the company moved to Sunnyside from western Washington. The company produces mushrooms that are sold throughout the Northwest and, according to its website, employs more than 200 people.
Reporting by Jasper Kenzo Sundeen for the Yakima Herald-Republic is possible with the support of Report for America and community members across the Yakima Valley Community Fund. These stories may be republished by other organizations for free under a Creative Commons license. For more information on this, please contact our newspaper city ​​editor.