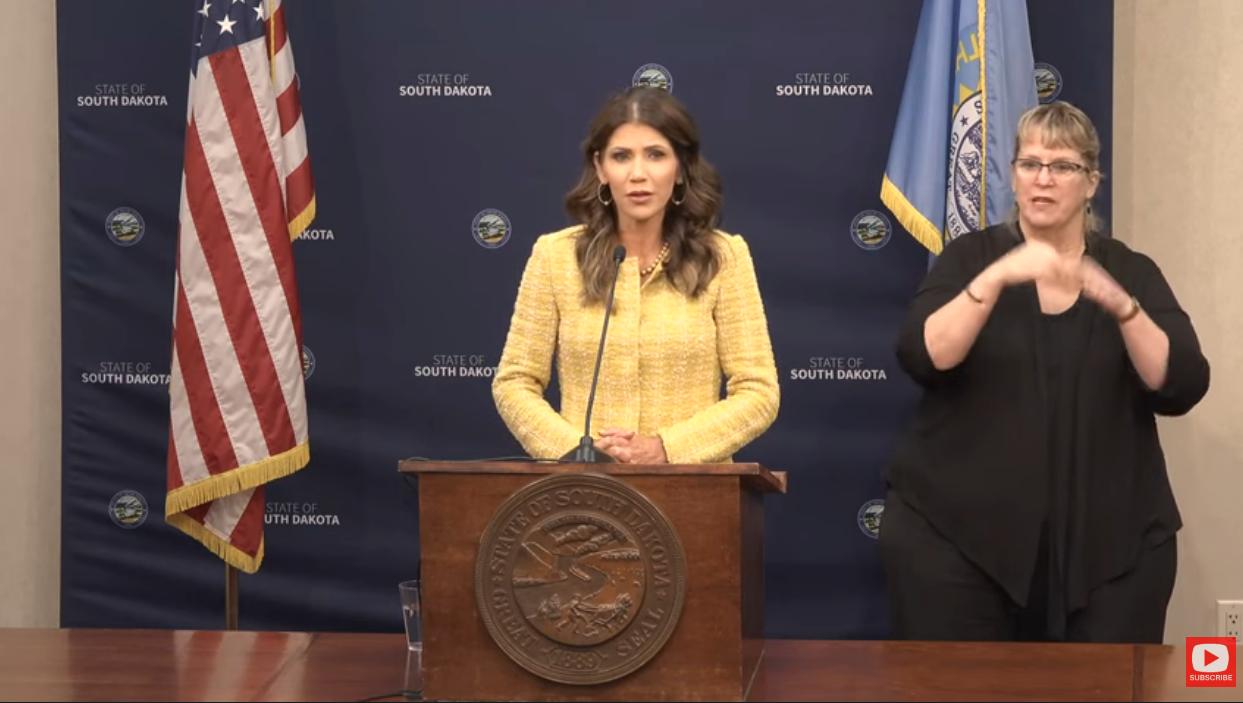 SD governor is 'sad' most LGBTQ people suffered from anxiety and depression
PIERRE — Months after vetoing an anti-trans sports bill, Republican South Dakota Gov. Kristi Noem last week proposed legislation banning trans women and girls from playing sports.
Noem's bill would codify two executive orders — one for K-12 students and the other for the college level — she wrote shortly after vetoing a Republican bill trans anti-sports.
Its first ordinance stated that "only women, based on their biological sex, as shown on their birth certificate or affidavit provided upon initial registration" may participate in women's school sports. The second made a similar statement for college sports.
According to Sioux Falls leader Argus, the South Dakota High School Activities Association still allows trans student-athletes to compete.
The proposed bill also states that if an athlete suffers direct or indirect harm as a result of a violation of the legislation, that student has a private cause of action for damages against the school, sports organization or college. who caused the harm.
Both decrees came after Noem rented but vetoed anti-trans legislation the Republican-controlled state legislature passed, fearing the NCAA would sue the state over the bill.
"This legislation does not contain the problematic provisions that were in last year's House Bill 1217," Noem said in a press release. "These flawed provisions would have led to litigation for our state, as well as for the families of South Dakota's young athletes, men and women."
The American Civil Liberties Union (ACLU) of South Dakota condemned Noem's bill, calling it a solution in search of a problem.
"Let's be clear: Noem's proposed legislation is an attack on transgender women and girls," wrote Jett Jonelis, advocacy officer for the ACLU of South Dakota.
According to the organization, the bill is also illegal, violating the United States Constitution and Title IX of the Civil Rights Act, which protects students — including trans — from gender discrimination.
"This bill is clearly fueled by a fear and misunderstanding of transgender people in our state," Jonelis said.
Noem claimed the bill was about 'fairness', saying: 'Every young woman deserves an equal playing field where she can succeed, but common sense tells us that men have an unfair physical advantage over women in sports competitions. It is for these reasons that only girls should compete in women's sports. Women have fought long and hard for equal athletic opportunity, and South Dakota will stand up for them, but we have to do it the smart way.
However, Jonelis said if Noem's concerns were truly about 'fairness' in women's sport, she would 'address real threats to women's sport such as severe underfunding, lack of coverage media, sexist ideologies that suggest women and girls are weak, and pay equity for coaches.
"Nobody wins when politicians try to meddle in people's lives like that," Jonelis continued. "Nobody wins when we try to codify discrimination like this. Laws like Noem's proposed bill have already been discussed and voted down. It's time to move on."
The bill is the eighth attempt to ban trans athletes from participating in sports in accordance with their gender identity, according to the ACLU of South Dakota. All proposals failed.
The next legislative session in South Dakota begins on January 11, 2022.