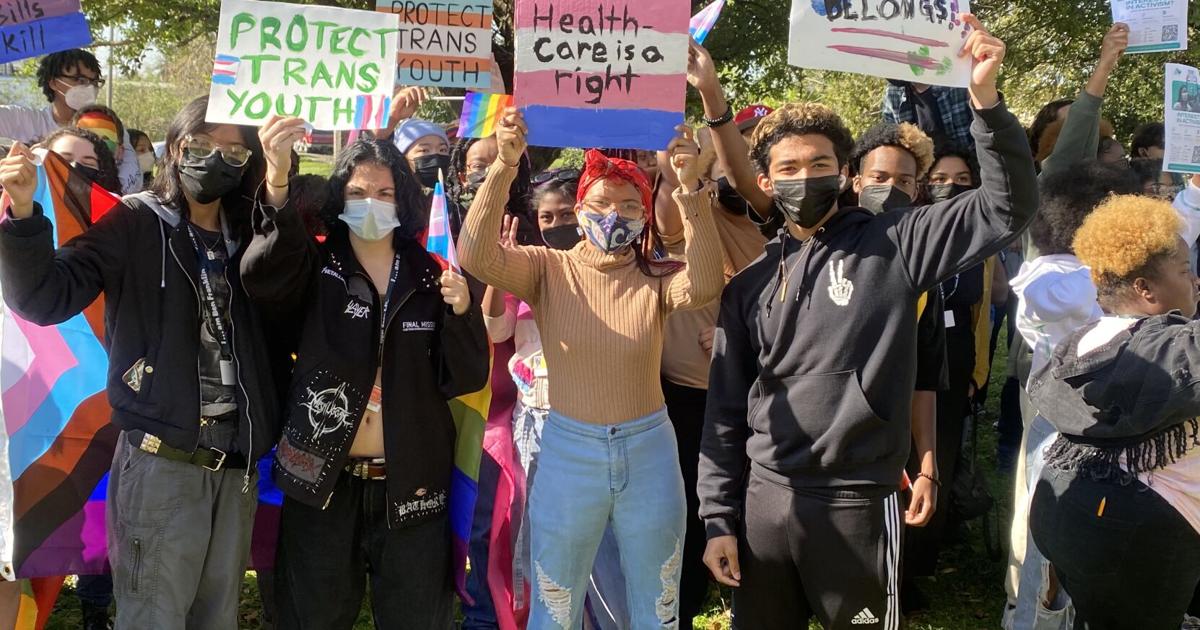 New Orleans high school students stage walkout to protest anti-trans bills | The last | Weekly Gambit
Hundreds of high school students walked out of class this morning at Benjamin Franklin High School to protest a handful of bills being considered by state lawmakers that would harm Louisiana's LGBTQ youth.
The student-led rally was organized by Grayson Swearingen, a 16-year-old junior who is trans. He said he first learned about the bill via Instagram and became furious. The bills, he argued, would further degrade the quality of life for LGBTQ youth. Over a megaphone, he accused discriminatory lawmakers of "trying to kill our community".
Several additional students spoke as their peers cheered them on and waved handmade signs with messages such as "Don't ban trans people", "Trans joy is resistance" and "Don't not erase us".
Orleans Parish School Board President Olin Parker, as well as Vice President JC Wagner Romero, the board's first openly gay member of color, also addressed the students. "Fuck those bills," Romero said bluntly, greeted with cheers and applause.
"I'm a proud, proud queer brown man," Romero said, adding that when he was a young man who came out as gay, black trans women "took me up to help me understand myself, when I had issues. family members who said I had something wrong with me.
A former teacher, Romero also told Gambit that he plans to show up on Capitol Hill to speak out against the bills. "I intend to create hell," he said.
One contested bill is HB 570, authored by Rep. Gabe Firment, R-Pollock. If passed, it would be illegal for minors to receive transgender reassignment therapy, regardless of parental consent.
Another is written by Senator Beth Mizell, who is trying for the second straight session to stop trans students from participating in sports.
HB 837, meanwhile, is written by Rep. Dodie Horton, R-Haughton and echoes Florida's "Don't Say Gay" bill. If adopted, school employees or presenters would not be permitted to "bring up the topics of sexual orientation or gender identity in any K-8 classroom discussion or instruction." ".
Critics, including Rep. Mandie Landry, D-New Orleans, who also came out in support of protesters, denounced him as unnecessarily cruel and stigmatizing, and Horton herself admitted last week that's not really a problem in his district.
Swearingen told Gambit that one particular bill is "detrimental to our important support system" of teachers.
The protest, though not officially sanctioned by the non-denominational public school, illustrated an atmosphere of acceptance among students and faculty members, Swearingen said. Prior to Franklin, he said he grew up in private Christian schools feeling marginalized as a member of the trans community, which impacted his mental health.
Robbie Mora, a senior, said he was inspired to cut classes and earn what is technically an unjustified absence in order to show solidarity with his peers. "I think [the proposed legislation] is pretty messed up," he said, adding that the bills violate freedom of speech and expression. "Our government sees no other prospects."
Swearingen and other students also pointed out that there were more cases of suicide and mental health issues among trans youth and he said this population already faced disproportionate levels of violence.
A student said, "I want you to live so badly. You deserve so much better than that.