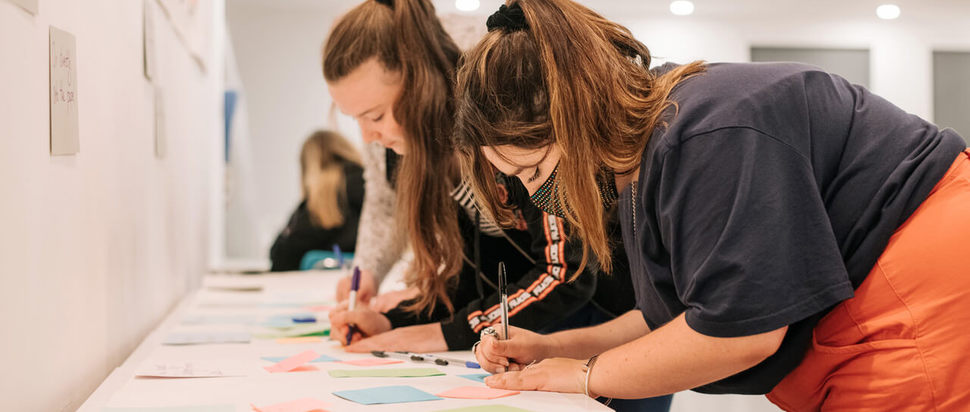 Hack the Patriarchy @ Out of the Blue Drill Hall
Initiated in 2019 and still relevant, Hack the patriarchy returns for another day of conversations about addressing gender inequality in the performing arts. Since its inception, the Stellar Quines campaign hosted by Julia Taudevin has taken several iterations, both virtual and in-person, through the pandemic to include as many voices as possible. Conversations are entirely people-driven, with topics of discussion emerging throughout the day and transcribed in multiple colors by the artwork of Cassandra Harrison. The space is open to all women and people of other marginalized genders who want to get involved. They are free to attend and have arrangements in place for childcare.
Saturday's session was held in person at Out of the Blue Drill Hall in Leith and looked at how the performing arts can support people facing trans issues, backlash when speaking out against patriarchal oppression and how to introduce informed language and practices into first-year child care. They investigated how the burden of education is often misplaced on those who have had experiences of marginalization and the importance of mediation when driving change. Additionally, we explored the impact of patriarchal values ​​on incel culture and the importance of introducing gender-neutral language and practices into childcare. Previous sessions have looked at the impact of COVID-19 on freelancers, mental health, and how to introduce top-down transparency within organizations.
Anger and hope were explored in equal measure. Against the backdrop of the pandemic and the shifting uncertainties it has brought to many in the arts, notes of hope about the changing landscape of Scottish creativity have been raised alongside frustration at the triumphs systemic failure and willful ignorance. Hack the Patriarchy will be back in the fall to take these conversations forward.
---
Hack the patriarchy will return in the fall with Stellar Quines.