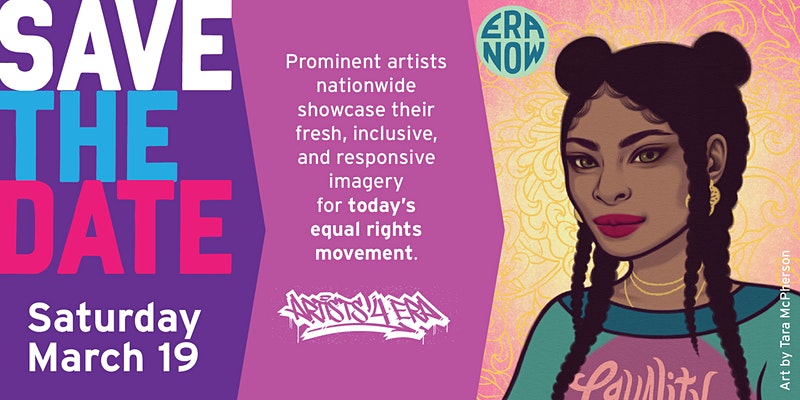 Artists 4 ERA: 2022 Art Show and Benefit for Gender Equality at Oakstop in Oakland – March 19, 2022
Sat 19 March 2022
at Oak
(5:00 p.m. – 8:30 p.m. PDT)
Come see this diverse collection of artwork created by artists from across the country in support of the ERA movement. Notable artists such as Shepard Fairey, Chuck Sperry, Tara McPherson, Gabe Gault and Erin Yoshi are among the 25 featured artists.

This will be the first live arts event and will benefit from the launch of the Artists 4 ERA nationwide touring show. The show will benefit VoteEquality, a non-partisan non-profit organization. The project was created to raise awareness of efforts to add gender equality to the United States Constitution with the Equal Rights Amendment (ERA).

Support this social justice movement for gender equality and the rights of women and LGBTQIA+ communities in Oakland on March 19 at Oakstop's Broadway Gallery at 1721 Broadway.

*The gallery opens at 5:00 p.m. with the reception from 7:00 p.m. to 8:30 p.m.

*Proof of vaccination required **Masks encouraged*
Come see this diverse collection of artwork created by artists from across the country in support of the ERA movement. Notable artists such as Shepard Fairey, Chuck Sperry, Tara McPherson, Gabe Gault and Erin Yoshi are among the 25 featured artists.
This will be the first live arts event and will benefit from the launch of the Artists 4 ERA nationwide touring show. The show will benefit VoteEquality, a non-partisan non-profit organization. The project was created to raise awareness of efforts to add gender equality to the United States Constitution with the Equal Rights Amendment (ERA).
Support this social justice movement for gender equality and the rights of women and LGBTQIA+ communities in Oakland on March 19 at Oakstop's Broadway Gallery at 1721 Broadway.
*The gallery opens at 5:00 p.m. with the reception from 7:00 p.m. to 8:30 p.m.
*Proof of vaccination required **Masks encouraged*
Read more

Show less
&nbsp&nbsp&nbsp
CHANGE OWNER

Owned by
{{eventOwner.email_address || eventOwner.displayName}}
New owner
Update
EDIT

EDIT

Dates/Times:
Sat. 19 March (5:00 p.m. – 8:30 p.m. PDT)
1721 Broadway, Oakland, CA 94612
CALENDAR OF EVENTS IN THE SAN FRANCISCO BAY AREA




The best events
Every week in your inbox