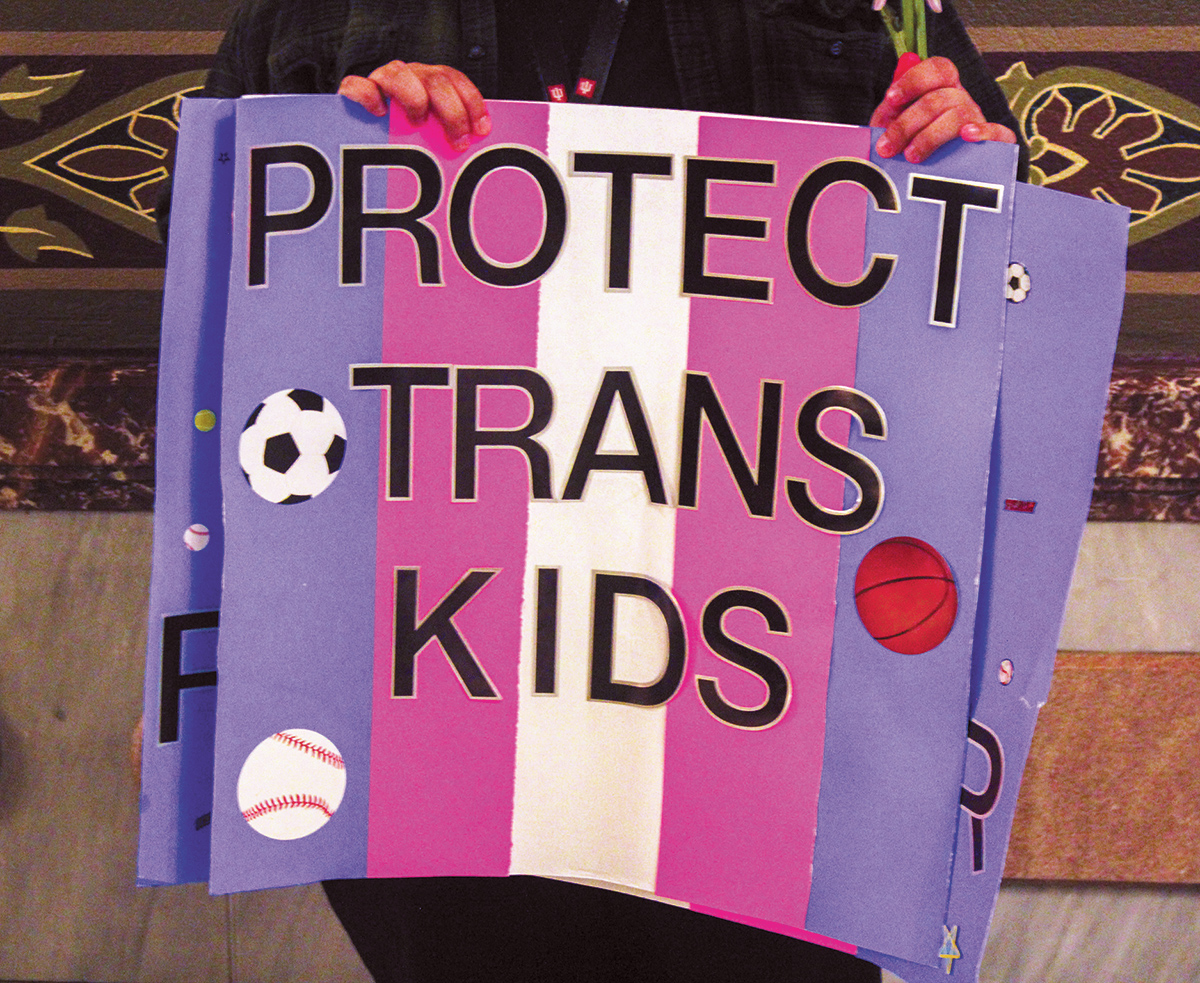 8 trans athletes file brief opposing sports ban on trans girls IN
Opponents of House Bill 1041 gathered at the Indiana Statehouse with signs expressing support for transgender athletes in May. (IL Photo/Katie Stancombe.)
Eight transgender female athletes from seven different states have filed a 46-page amici curiae brief challenging an Indiana law that prohibits trans girls from participating in K-12 girls' sports.
The Short, filed on behalf of the athletes by the Transgender Legal Defense & Education Fund, shares personal stories from each of the amici, who argue that "the ability of transgender girls to access the same opportunities that sport provides their cisgender (non-transgender) peers depends on their ability to participate in accordance with their gender identity.
"Transgender amici who participated in sports with policies that respected their gender identity excelled socially and personally, were able to develop life-saving skills that impacted their personal lives and development, and formed strong relationships with their teammates and competitors, which in turn fostered understanding. , acceptance, teamwork, and inclusivity," the brief states. "In contrast, when amici were excluded from sports or discriminated against in their respective sports, they often suffered social, emotional and physical harm."
The amici, who vary in age and level of experience in several sports, hail from California, Florida, Nevada, New Jersey, New York, Oregon and Texas.
Among the athletes who filed the case are Hailey Davidson, a professional golfer, and Kayla Ward, a model, actress and basketball player who at one point was aiming to be the WNBA's first openly trans player.
The right in question is House Enrolled Act 1041, which was passed by the Indiana General Assembly in May despite a veto from the governor.
The day Indiana's Republican supermajority overruled Governor Eric Holcomb, also a Republican, the American Civil Liberties Union of Indiana filed a complaint challenging the new law in Indiana Southern District Court on behalf of AM, 10, a trans girl who plays softball at an Indianapolis public school.
In July, Southern Indiana District Court Judge Jane Magnus-Stinson issued a preliminary injunction allowing AM to participate in his school-sponsored team, finding that the law "raises controversial questions regarding Title IX boundaries and if and how those boundaries should expand and shift in an ever-changing world".
However, the injunction only applied to AM, so the law remained in effect in all other cases.
Following the judge's order, Indiana Attorney General Todd Rokita – who has strongly supported the ban since its introduction, including sending a representative from his office to testify in support of the bill at a a public hearing – requested that the 7e The Circuit Court of Appeals hears the case en banc.
After this request has been refuseRokita asked than the 7e Circuit lifts the preliminary injunction.
Over the past two months, dozens of briefs have been filed in the case supporting both sides, according to the 7e Circuit file for AM v. Indianapolis Public Schools, et al, 22-2332. Oral arguments have not yet been scheduled.